Doing life goes beyond Sundays. Your Christ-centered journey spans the entire week. Knowing what happens Monday thru Saturday is important, especially when you are juggling many activities, trying to keep up with the kids and getting all of your planning planned. That's why we created the all new Graceapp.
The Graceapp gives us the ability to connect, grow, serve, and go. We want to provide you with the information and tools to plug in to the life of Grace so that you and your family may grow in your spiritual journey.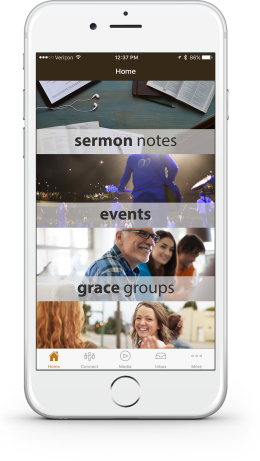 With the Graceapp, you can:
Discover current events
Watch and listen to messages
Connect with ministries
Find a group
Receive notifications for only the things that you want to be informed about.
Watch Grace Online live
Communicate with staff
Register for events
Save dates to your calendar
Get directions
Sign up to serve
Give online
And much more!
Just text "graceapp" to (833) 245-7295 to download!